Damascus steel is a type of metal used to make knives. It is known for its durability and resistance to corrosion. But is Damascus steel good for kitchen knives? Let's delve into this one.
Since the 14th century, Damascus steel has been in use in both Eastern and Western cultures. In recent years, it has seen a resurgence among knife makers around the world because of its beauty and quality. Damascus steel is often combined with carbon or stainless steels to create an even more durable blade which resists rusting better than other metals can. This means that Damascus blades will last longer without being sharpened or needing conditioning treatments like oiling or waxing – making them perfect for kitchen knives! Aesthetically pleasing as well as functional, these blades are sought after by chefs for their purposeful design qualities.
The Benefits of Damascus Steel Kitchen Knives
The benefits of Damascus steel in kitchen knives is they do not need to be sharpened so often and the added durability means that they will last even longer. They also tend to have a more pleasing look than other knives.   
What kind of blades use Damascus steel? All kinds! Commonly forged into knife blades, but it can also be used to make forks and other various implements. Some knives which use Damascus steel: chef's knives, carving knives, meat cleavers, breadknives and more!
Who Makes Damascus Steel Kitchen Knives?
So we have established that Damascus steel knives are perfect for the kitchen, but who makes them? And where can you find them?
Here are a few companies that make Damascus steel kitchen knives that you can put your faith into knowing that you're getting a solid product.
Regalia Knives
Regalia Knives has been making knives with Damascus Steel for over 40 years. They make high-quality culinary knives that are handcrafted to be beautiful and durable.
Regalia Knives' Damascus steel kitchen knives are made from the finest materials available. The blades are stainless steel clad with a layer of carbon or carbon alloy steel, which is sandwiched between two layers of stainless steel. The sandwich of steels gives the blade strength while allowing it to be flexible enough for use in cutting.
The flexibility of the blades makes them perfect for chopping vegetables, mincing garlic, skinning potatoes, jointing chicken or slicing pies without tearing up the crust.
The blades stay sharp longer because they don't have an exposed edge that's being worn down each time it's used.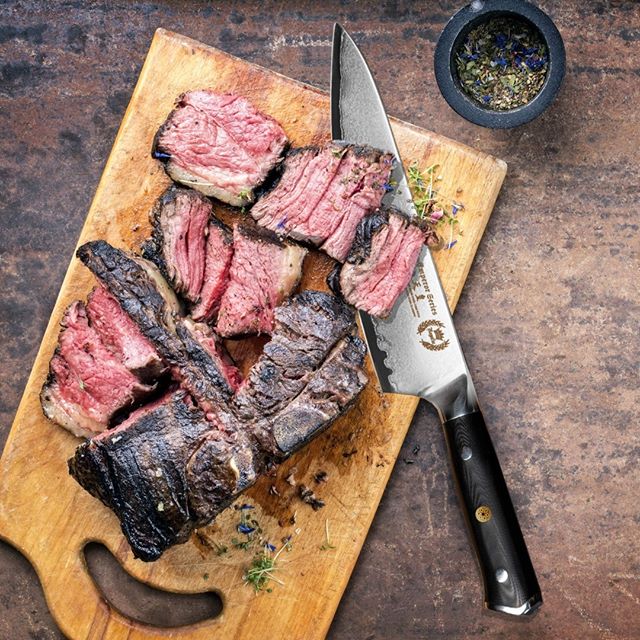 Zwilling
The Zwilling Group Cutlery and Cookware company is known for making high-end kitchen products for professional and home cooks alike. And that includes their Damascus steel kitchen knives.
Zwilling J.A. Henckels blades are made from a proprietary blend of Zwilling exclusive high-carbon, chromium stainless steel for corrosion resistance and durability. It is combined with their patented ice-hardening process to create an exceptionally strong blade without brittleness or warping.
The Damascus steel used in the Zwilling Damascus steel kitchen knives is different from other similar blades in that it is powdered with carbides, instead of layered. This means the blade has a consistent grain structure that carves precisely and beautifully.
The Zwilling J.A. Henckels Damascus steel kitchen knives come in several popular sizes to suit their intended function whether slicing, dicing, chopping or mincing.
Henckels International Eversharp Pro Chef's Knife
The Henckels International Eversharp Pro Chef's Knife is the perfect tool for the chef who wants to do it all with one knife.
This Damascus steel kitchen knife features a full tang design for optimal strength and durability. The ergonomic handle is slip-resistant, even when wet.
The high-carbon stainless steel blade provides superior cutting performance on every type of food, including meat, fish, and vegetables. And it can be sharpened to restore its original sharpness over time.
IMAGE
L'Objet d'Art Wüsthof Grand Prix II
Last but not least, there is the Wüsthof L'Objet d'Art Damascus steel kitchen knife.
This handmade Damascus steel kitchen knife is constructed from high-carbon stainless steel for incredible durability and sharpness. The blade has an HRC of 62.5 to maintain peak sharpness through long-term use.
The handle is made of ebony-black PakkaWood with nickel rivets to add a touch of class and luxury to the kitchen. But it's also durable, strong, lightweight and slip-resistant. It comes with its own built-in sharpener for optimum sharpness when you need it most.
So is Damascus Steel Good for Kitchen Knives?
Damascus steel is a type of metal that has been used for centuries to make high-quality kitchen knives. It's also known as pattern welded steel, which means it consists of two or more steels with different properties layered together. This makes the blade flexible yet strong enough for use in chopping or dicing vegetables and other ingredients without tearing them up. Damascus blades stay sharp longer because they don't have an exposed edge being worn down each time they're used. If you're looking for the best kitchen knives, look no further than Regalia or Zwilling knives. They use Damascus steel in their best blades which makes them optimal for all types of cutting tasks in the kitchen.