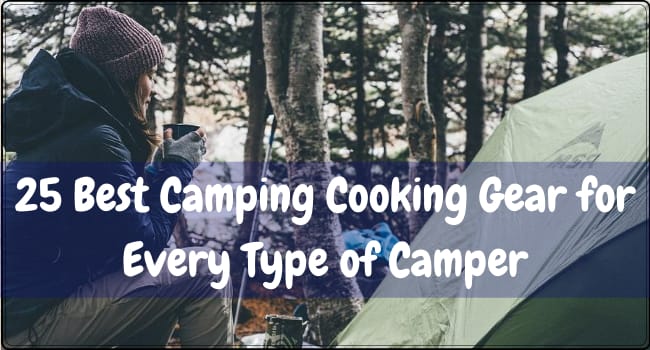 Camping is always an adventure. Not only do you get to unplug and relax, but you get an opportunity to enjoy beautiful views as well. You can enjoy the calmness of nature and experience some peace of mind as you recharge. That's an experience you simply can't have living in a city. 
If you've never gone camping before and are planning to do so sometime in the future, we're here to help. There are many essentials things you must bring on a camping trip, and cooking supplies are among the most important.
Contrary to popular belief, you don't have to cook simple meals while camping. With the right kind of cooking gear, you can prepare mouthwatering delicacies. 
The temptation to bring almost everything from your kitchen is real, but that's just not necessary. Your cooking gear should be easy to clean, portable, and highly functional. You'll need items that'll help you prepare food, cook it, and consume it.
Whether planning for tent camping, RV camping, backpacking, or even car camping, here are the top 25 must-have cooking items for every camper.
Do you want to fry some eggs or sear some pork chops while camping? That's possible with the help of a cast iron skillet. It's highly durable and can withstand the heat of hot coals, and it's surprisingly portable. It's also naturally non-stick, which makes it easy to clean.
Once you decide to bring a skillet, remember to carry some vegetable  or canola oil to season the pan. A paper towel or cloth is also important for wiping, and gloves will help you grip the skillet. 
Before packing the skillet, put it inside a grocery bag. That way, when you want to use it, it will still be clean.
While camping, you're going to have to heat food and boil water. Remember, if you're camping near a natural water source, it's not safe to drink the water before boiling it. A camping stove will allow you to do just that. Apart from being portable, it's compact and lightweight, making it easy to pack and carry.
Regardless of the weather, you can easily ignite your camp stove using a lighter or even a match. The stove will cook the food evenly with variable heat and, unlike campfires, won't produce ash. The odds of burning your food are low when you use a camp stove. Unlike with a campfire, you won't waste time collecting firewood.
After partaking in strenuous outdoor activities, you've worked up a ravenous appetite. But you can't just eat fruits or vegetables. Thankfully, you can use a camping pot to make a sumptuous meal. There are many varieties of camping pots from which to choose, and they offer many different sizes and materials.
When cooking at home, you use wooden spoons quite often. What makes you think they're not important for camping? Remember, these spoons are vital for stirring, sautéing, or even taste-testing. Unlike metallic spoons, wooden ones don't get too hot even when they come in contact with hot food. You also won't have to worry about scratching your pots or bowls if you're using a wooden spoon.
One mistake campers often make is forgetting to carry a lighter. Unlike matches, high-quality lighters are windproof and waterproof. Not only are they durable, but they're refillable as well.
Carrying a lighter will help you stay warm, and you'll need it to cook food and sterilize water. Fire will help you illuminate your living area and keep the predators away.
You've fled the city for nature's warm embrace, but you can't risk drinking contaminated water. How will you explain the beauty of camping to your family and friends if you fall sick because you drank untreated water?
It's usually impossible to carry enough distilled water for your entire trip, so you're better off camping near a natural water source. That's when a camping kettle comes in handy. Its durable material makes it extremely sturdy and dependable, and its low weight makes it easy to lug around. It's also easy to use and has heat-resistant handles.
11. Bottle Opener/Can Opener
Nothing's as refreshing as a cold drink on a hot afternoon, but it can be frustrating trying to open a bottle without the right tool. Opening it with your hands or teeth is too dangerous, so you're going to need a bottle opener to do the trick.
Fortunately, you'll only need to bring one for your entire crew. It's portable, making it easy to carry in your pocket or bag, and some even use it as a key-holder. In short, it's a necessity for campers.
Eating utensils are also a must-have for campers. Of course, you could eat your food right out of the pan, but that would certainly be less convenient.
Some plates, cups, bowls, mugs, forks, spoons, and knives go a long way. Consider investing in reusable dinnerware for durability and cost-effectiveness.
15. Collapsible Water Bottles
While camping, you have to stay hydrated. That's why carrying a collapsible water bottle is vital. Packing a collapsible water bottle is easy since it doesn't take up much space. If the bottle's empty, you can collapse and fold it to fit in your bag or even in your pocket.
These bottles are also much more environmentally friendly than their plastic counterparts. In addition, they're more economical since you can reuse the same one for a long time. Thanks to their silicon material, you can fill them with both hot and cold liquids without worrying about how the outside temperature will affect them.
After some taxing hiking in the mountains, you'll be dying for some cool drinks. However, carrying a portable refrigerator or a freezer while camping is a bad idea. That's why you need a cooler. It will ensure that your drinks remain cold while helping you preserve the food as well.
A wheeled cooler is a more convenient option. It's more mobile and usually more portable as well. In addition, its durability makes it a practical option for campers and its cooling function ensures that your drinks remain cold for long periods of time. Not only that, but if you don't have enough chairs, it can serve as an extra one. And if you haven't put ice inside of it, you can use it to store whatever you want.
One of your biggest concerns when packing for a camping trip should be bathing and washing items. The thought of bathing in the woods might even make you want to abandon your camping plans. The good news is that all you really need for a comfortable bathing experience is a camping sink.
Camping sinks are portable, so you you can move yours easily around your camping site. It can even help with water purification too!
Your camping sink won't require any professional assistance to install and its built-in tank provides a sizable storage capacity. You can use it to bathe, purify water, or even groom your pets.
Note that the water you use for your bathing sink won't flow into the ground, but straight into your campsite's drainage line. If the campground is uneven, you can adjust the sink's legs to ensure its stability. Finally, its high-quality FDA-approved materials mean that it doesn't pose any sort of threat to your health.
Observing proper hygiene is one of the unwritten rules of camping. You wouldn't risk your utensils getting contaminated with dust or animal droppings, so why not place them on a dish-drying rack when you're done with them? It's hygienic, and using it will help protect your utensils from spreading diseases like chorea.
You shouldn't sacrifice personal hygiene just because you're going camping. Bacteria doesn't take a vacation, even when you escape to the woods. That's why a biodegradable soap a must-have for campers. You can clean and wash yourself with it with it, which ultimately means you'll enjoy a much more comfortable trip.
After washing with this soap, avoid pouring the water into a stream or other natural water source because doing so may harm local animals. If your campsite is next to a water source, dig a hole at a distance and pour the soap in it to ensure that it doesn't flow into the river. Note that pouring it on the grass near your camping site is also a bad idea since animals could eventually eat it.
Are you looking forward to eating some grilled food? If so, you need to bring a camp grill. Grilling food at a campsite with your friends can strengthen your relationships and encourage healthy eating. It helps drain excessive fat from meats and preserve vegetables' vitamins and nutrients.
Grilling your food also helps you avoid using butter, which is high-calorie and has been connected to heart disease. You don't have to use it when you're grilling food, and grills are also more convenient since they decrease your prep time.
Fire scares away predators and offers warmth at night. But how much should you bring? You can waste a lot of time searching for firewood while camping, but you don't want to stuff your entire trunk with logs either. Ideally, you should carry a moderate amount with you to your campsite and then collect some when you run out. If you buy hard and dense firewood, it'll last longer and you won't have to forage for as much on your trip.
If you aren't able to buy any firewood prior to your trip, search for some in the vicinity of your campsite prior to the first sunset. Make sure you wear gloves to avoid cuts, and don't bother with wet wood.
Packing the right cooking gear for your camping trip guarantee that you're able to prepare quality meals. That's why you should create a list of items to pack so that you don't forget any essentials. Remember, you'll need gear to prepare, cook, and serve food and beverages. You'll also need items to store leftovers and clean your cooking materials.
While camping, be mindful of your environment. Avoid pouring dirty water into a natural water source, and make an effort to pack items that are portable and multifunctional. And, as always, don't forget to bring firewood.