One of the best parts of going to a carnival has to be getting a huge cone of sticky, fluffy cotton candy. It is tasty and fun for all of the family.
Did you know that there are machines available to recreate this delicious treat at home as well as for business use? Machines that can make a multitude of different flavors and colors to make every day feel like a party.
Take a look through our reviews of the best commercial cotton candy machine and the best home cotton candy makers, read the guides, and get some handy tips.
Hopefully, then, you will be able to make the most informed buying decision.
1. Nostalgia PCM805AQ Cotton Candy Maker
This cotton-candy machine has a great retro look to it that will look good on a countertop and be a real conversation starter.
It is sturdily made, easy to assemble, and easier still to disassemble and wash.
We love the large, clear rim. Not only does it protect small hands from the heat, but it also allows everyone to see the sugar flossing, it is fun to watch.
Best Feature
The Nostalgia machine works with hard candies as well as sugar; even sugar-free candy. Whoever heard of healthy cotton candy?
By mixing different boiled candies you can achieve endless flavor combinations and also some weird and wonderful colors.
The base of the unit has 2-powerful suction feet. This ensures it stays put and doesn't 'walk' across your counters.
Buy this best home cotton candy machine for your next party, it takes minutes to make, is easy to use, and is great fun.
2. VIVO Blue Electric Commercial Cotton Candy Machine
When planning a big party, what could be better than as much cotton candy as everyone can eat?
Although this is the best cotton candy machine for commercial use, if you cant fast and professional results, just like at the fairground, you should seriously consider this machine.
It features a large 20" stainless bowl that can make 2-3 generous servings of cotton candy every minute. Once you have mastered the technique you can be keeping all of your customers happy and reducing queues quickly.
Best Feature
Not only does this machine work with proper flossing sugars, but it also provides equally impressive results from melting down hard candies.
All you have to do is choose your favorite flavors, pop them in and watch as they magically melt and spin into the fluffiest treat.
You can experiment with different candies and produce some sensational and colorful cotton candy.
The 1080-watt motor doesn't make excessive amounts of noise and has 4-rubberized feet to stabilize it on the counter.
We love how easy it is to clean the machine. Once it has cooled down, release the latches and everything strips down to wash in warm water.
This is a great machine to help bring the carnival atmosphere home.
3. Nostalgia PCM405RETRORED Countertop Cotton Candy Maker
This modern best cotton-candy maker has a retro feel that would look right at home in a 60s diner.
As with all of the Nostalgia candy machines, it comes with all of the accessories required to make fluffy cotton candy, but only 2-reusable cones. If your machine is going to be the fun, centerpiece at a party, then you will need to order additional cones.
Setting up the machine takes a minute, and once it is fully-heated you can be eating your treat within a few more minutes. We love that there are no complicated settings, it really is simple to operate.
Best Feature
The base has a couple of strong suction cups. Whilst this may not seem like a brilliant feature, if you'd seen other machines bouncing towards the edge of the counter, you would really appreciate these feet.
All you have to do is choose your favorite flavors, pop them in and watch as they magically melt and spin into the fluffiest treat.
They ensure the cotton-candy machine stays put while in flossing mode.
Holding the cones horizontally across the top of the rim, gently moving and turning it gives the best results. If you prefer a bigger cone then just add more flossing sugar.
If you are being adventurous, hard candies can also be spun into cotton candy. Choose different flavors and colors for added fun. You can even make sugar-free cotton candy.
Features and Factors to Consider when Buying a Cotton Candy Machine
Home or Commercial Use
Some of our featured machines are designed solely to be used at home and, as such, will only make a small quantity of floss at any one time.
Consider the Vivo machine if you're hosting a large party or intend using it commercially.
Design
Whether you're looking for a fun and colorful centerpiece for your party or a more sedate retro-style machine, you will find something to suit you in our reviews.
Simple Operation
The best cotton candy makers are extremely easy to use and don't require the user to follow a long list of instructions.
Most have 1-button operation which covers power and heating.
Learning how to make the cotton candy stick to the cone is a little more difficult; there are many YouTube videos to help.
Easy Cleanup
You might think that molten sugar that has hardened would be difficult to clean. Not so with these cotton candy machines. Each of them disassembles easily and will need nothing more than warm water to restore them.
Safety Features
These machines contain boiling sugar as should be handled with care. Only buy a cotton candy maker that has a rim shield to prevent any molten sugar from spitting out.
Rubber feet and anti-slip bases are ideal to prevent the machine from dangerously moving as it spins.
Accessories
Most machines come with a sugar scoop and cones as standard. Be prepared to buy additional cones as there are often only 2-supplied and you may need to make lots of floss simultaneously.
Look out for machines that offer a start kit, these are often the best value for money as they will be delivered with some flossing sugar to get you started.
Size
Some machines are quite bulky even though they have a small footprint. This should be a consideration if you are limited to storage or display space.
How does a cotton candy machine work?
Once it has been heated up, the perfect mix of floss sugar and coloring are put into the extractor head of a cotton candy machine.
The sugar will melt until it forms a liquid with a similar consistency to honey.
From there it will pour into a circular container with tiny holes in the sidewall.
The container spins on its axis and, using centrifugal force, (think of clothes sticking to the outer edge of the drum in a washing machine) forcing the molten sugar solution out through the holes.
As the sugar hits the air it cools down immediately and forms long colored strands of sugar crystals.
This is the webbing and is spun around a stick or cone until it resembles the delicious cotton candy that almost everyone loves.
Safest way to make larger cotton candy cones
Lots of people think that by adding extra sugar to the extractor head you will achieve more cotton candy. You just might, but if the machine can't cope with the amount all in one go it will malfunction and cause the holes to clog.
If you are finding that your cones are on the small side, add the designated amount of sugar and spin the floss onto the stick until there is no more coming out. TURN OFF THE MACHINE.
Add a second scoop of sugar, switch the power back on, and continue to twirl it around the same cone.
Once you have got a good technique going you will make huge cones of sticky treats.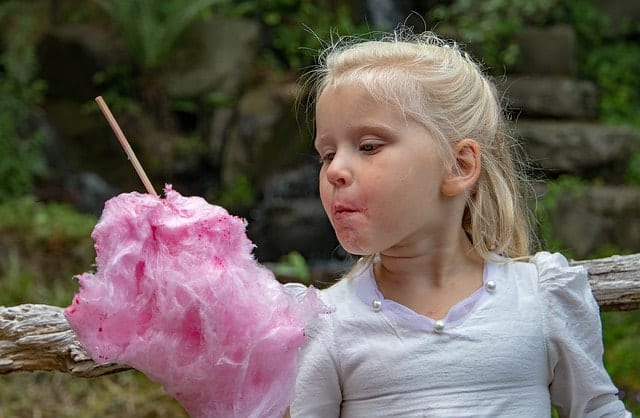 Mix It Up!
The best thing about making your own candy floss is the adventures you can have with flavor and color.
Use your favorite hard candies and mix them to get different results.
Here are some of our favorites;
Blueberry and strawberry for a berry surprise
Coconut and pineapple make a tropical delight
Cola cubes and vanilla is like eating a coke float
Butterscotch all on its own has an unusual, creamy flavor
Frequently Asked Questions
Whether you're buying commercial cotton candy machine or one just for home use, be sure to use precautions around it. Firstly, it heats to very high temperatures, and secondly, the spinner rotates very fast with hot sugar on it.Don't get disheartened the first few times you use it, it might take a few attempts to get the technique just right.
Be sure that once you have mastered it, you won't need a party to get the cotton candy maker out, you'll be eating it regularly. Who needs popcorn to munch while there is a movie on the tv when you can be enjoying tasty cotton candy?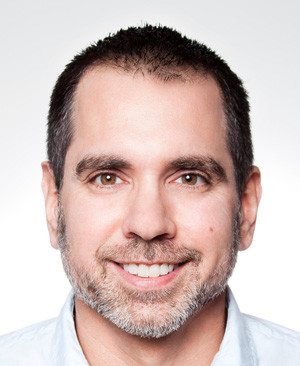 John DiBella is a graduate of The Culinary Institute of America, a cooking enthuthiast and a writer. When he's not writing blogs about home kitchenware, he enjoys hiking, camping, sailing and cooking.