From time to time, many countries across the world have gifted their best things to enrich mankind. Especially, as far as the food matters there is enormous kinds of delicious and mouth-watering foods either you use to cook at your place or being served at the eateries are not necessarily belong to your culture. For example, you get chow-min from far east and pasta from Italy. Of course, pasta is one of the best gifts from Italy to the world. This creamy preparation with delicious cheesy flavor makes you keep lingering your mouth for a long time.
This dish seems better when you're offered a prepared one to your lap or dining table. But if you're asked to cook by your own effort, then it will certainly make you crazy. You have to stir the preparation continuously while cooking on an oven, but it doesn't stop foaming. Then you put it down from the heat for a while and then put it back on the heat and all starts once again. After a long huff and puff your pasta is ready as you wished to be. Now, all these nightmarish experiences are going to an end. Thanks for having an awesome pot that can make your job easier so that you can enjoy the pasta made by your own effort. The appliance is called Pasta Pot, certainly, a great thing that you'll want to keep in your kitchen. Let's find out the reason.
A pasta pot is a self-draining pot that is specifically designed for boiling pasta. Most of the pots have a lid to strain out the water once the pasta is cooked. The rest of the pots have a straining insert basket that allows the water to drain out by lifting the pot. This kind of pot is safer for you as it prevents the hot water from splash out what you may face while pouring pasta into the boiled water in a common pot.
How to Use A Pasta Pot for Preparing Pasta?
A pasta pot is a device that can be used to make not only pasta but you can make spaghetti, also. Even you can cook beans. lentils, hard-boiled egg, and other foods if it is required straining. As for preparing pasta you have to go through the whole process following some steps.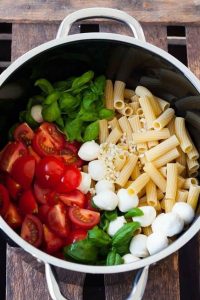 At first, fill both of the pots with fresh water.
Place the pot on the oven and allow the water inside to boil. Then carefully add the dry hard pasta to the boiled water. Leave it for few minutes.
Check the pasta, if you find it is cooked to your liking then turn off the oven. Now grip firmly the hot pads. Then grabbing the handles slowly and carefully lift out the inner pot from the outer pot. During this, the water of the inner pot will be drained out to the outer pot.
In this way, you'll find your pasta is ready for further process.
 Empty the outer pot when it is cool. Then rub the surface with a clean and dry cloth to make the pot dry again.
How to Use A Pasta Pot for Preparing Spaghetti?
Spaghetti is another kind of food that can be prepared using the pasta pot. Here also you need to do the whole process in some steps.
In a home kitchen or restaurant kitchen, a food processor is essential in creating several recipes. We have selected and reviewed some of the best models that are perfect for pureeing. Nonetheless, some of them can still serve a variety of functions. The most exciting thing about them is that they are not so expensive. We hope you found the information helpful.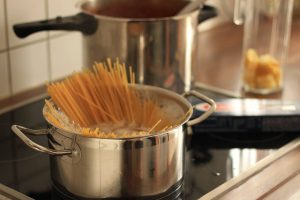 Place the pot on an oven and fill with the directed amount of water. Make sure the water level should be twice or three times the height of the spaghetti that you're supposed to drop in. It will ensure that the spaghetti will never run out of water when it cooks and expands.
Turn the burner on and let the water to reach the boiling point.
Now place the colander-insert with the spaghetti in the pot allow the spaghetti to boil. As it rests on the bottom of the pot, certainly it will get enough heat and they will become more flexible by absorbing water.
Let them get the heat for 8-15 minutes and then turn down the flame.
Grab the colander-insert and lift it out of the water, but keep it over the pot to allow the water to drain out.
Overturn the colander-insert to a serving bowl and pour all the spaghetti in the bowl.
How Much Water to Put in Pasta Pot?
As you know, water is the compulsory thing for making pasta or spaghetti. But the quantity of water that requires depends on the amount of pasta or spaghetti that you're going to cook and also the recipe that you have to decide if it is sticky or soupy food. Generally, you need 1 liter of water for 100 grams of pasta or spaghetti and that considers sufficient for any kind of recipe that you want to prepare.
How Can You Keep Pasta Shapes Intact?
Although you're good at making pasta, but there is a problem that the shapes of them barely stay intact. The outer edges often break off and some severed into two. Probably less stirring and insufficient water are the two reasons behind the problem. To prevent this you have to stir well especially the bottom of the pot. And you have to take plenty of water 3"-4" above the pasta. These two things certainly don't allow the pasta to lose its shape.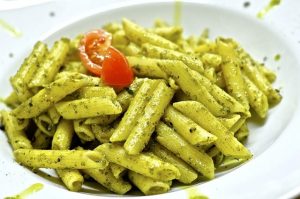 How Long Does Pasta Last in A Fridge?
There are many occasions when you find leftover pasta on the dining table. As you're frugal enough to throw them away but keep them in your fridge for later use. But the question is for how long it remains in a better state for further use. The ingredients and the cooking method plays an important role in making pasta last longer in a fridge. If you have plain cooked pasta, then it will last a maximum of 7 days in a fridge, while as for pasta with sauce, it is better to have within 4 days as the chemicals of sauce can be harmful to your health later on.
Solutions of Some Common Problems
There are some problems that you may face using any cookware over time. Some of them need to go for repair, some need replacement, but some problems that have easy solutions and that can be taken care of by you.
Discoloration
If the pot is made of stainless steel then it may get discolored over time. If that so, then all you need to wash the pot with any non-abrasive cleaner or vinegar to get back its original color.
Water Stains
Water stains are commonly seen on the inner surface of the pots after some use. To remove the stains you have to wet the surface at first. Then take some baking soda on a wet sponge and rub that on the surface until the stains go away. After that, rinse the pot and make it dry.
White Spots
Regular use of calcium-based foods; you may find some white spots on the inner surface of the pots. To get rid of them you have to take a mixture of vinegar in 3:1 ratio and boil it inside that pot. Once it cools down, wash simply and rinse the surface only to find that the white spots have gone.
Only a device with complex technology doesn't need to always come up to provide A better service for you. Sometimes a simple appliance can do wonder. The pasta pot is no doubt one of them. Having this in your kitchen will certainly give enough opportunity to impress all the guests and family members with your cooking skills and that also without applying much effort.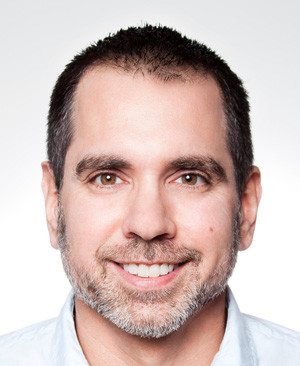 John DiBella is a graduate of The Culinary Institute of America, a cooking enthuthiast and a writer. When he's not writing blogs about home kitchenware, he enjoys hiking, camping, sailing and cooking.