Preparing some great dishes doesn't entirely depend on the skill of your cook or chef as to how he or she could manage the recipes. It also depends on how smartly you can handle your kitchen tools. Because the recipes precisely add the taste and the flavor to the dishes, but the tools provide the fineness and also they prove the time-savers, both of them are equally important for any kind of dishes.
One such tool is a mandoline slicer. This is a device that can be applied to slice veggies and fruits of your desired size and thickness to prepare different types of salads, soups, French fries, waffle fries, zucchini, fruit tarts, etc. So, today we learn about How to Use a Mandoline Slicer for Zucchini. Let's go.
How Does a Mandoline Slicer Work?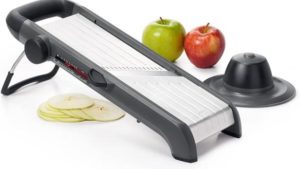 The best mandoline slicer is an effective device that helps you to get a lot of uniformly-cut fruits and veggies. This is a vital tool for both homes and restaurants. Every time this device slices and cuts potatoes, carrots and many other fruits and veggies evenly as you need to prepare different dishes. This device has two parallel surfaces and one of them is adjustable. All you need to slide the veggie or fruit along the adjustable piece and you'll see the sliced pieces are falling on the plate. There are varieties of mandoline slicers available having different shapes of pieces depending on your requirements.
What is Zucchini?
Zucchini is a kind of squash grows mainly during summer. Generally, it grows in huge amount so you should not overlook its value as it has lots of vitamin A, calories and few other minerals. Apart from its health benefits, it is very easy to cook. And you can prepare innumerable types of dishes with the help of this veggie from sweet to spicy anything you can make from it.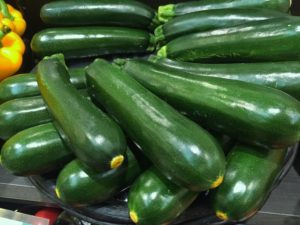 Zucchini and Mandoline Slicer- A Bonding
Though you can prepare numbers of dishes by zucchini, the discussion will be limited within those foods that can be prepared using the mandoline slicer only. Because, you know that the thickness and the shape that zucchini needs for many preparations, only a mandoline slicer can produce them. So now it is the time to find out how the different dishes made of zucchini using a mandoline slicer.
How to Use a Mandoline Slicer for Zucchini
Zucchini Noodles
Zucchini noodle is a dish that you simply love to have more and more. But to prepare this delicious dish you need to have a Mandoline slicer as it can provide you the slices of zucchini with perfect shapes and thickness. You will see how easily and quickly this device works for you. Having little spikes this Mandoline slicer at first cut the zucchini lengthwise, and then slices them into strips. After getting the strips now the zucchini is ready for cooking. All you need to fry them in a flat pan adding some oil and butter for just 2-3 minutes. Even boiling them is not a bad idea to prepare your noodles.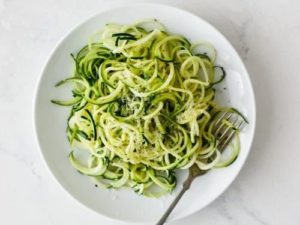 Zucchini Bread
To prepare this excellent dish for your breakfast or as a fast food using a Mandoline slicer is perhaps the best idea of all. Because it helps the zucchini to be grated or shredded perfectly in a very short time. Now, all you need to follow the recipes properly to prepare the fantastic zucchini bread for yourself and your family as well.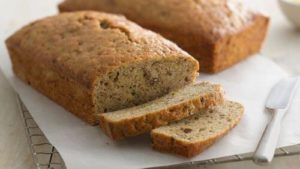 Tossed Salad
This is probably one of the easiest dishes that you can make out of zucchini using a Mandoline slicer. All you need to cut your zucchini into thin slices and add them with some other fruits or veggies and finally mix them with some salt, vinegar, and spices. Finally, your salad is ready to serve.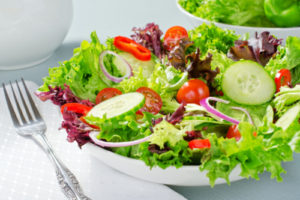 Apart from all these, there are many more dishes made of zucchini where you need the Mandoline slicer for perfect cut and slice.
After following the different preparation of zucchini, now you need to know the different cuts of zucchini using the Mandoline slicer. Follow me.
Zucchini Coins
Zucchini coins are mainly used for making deep fry. Adding some other veggies and spices zucchini turns into a delicious dish. To produce zucchini coins using a Mandoline slicer you have to cut off anyone end of the zucchini and then drag it across the blades. You may use a knife to cut your zucchini into coins, but a Mandoline slicer ensures you the coins of equal size.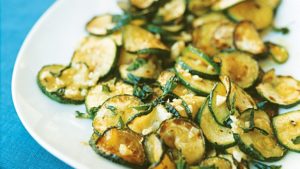 Zucchini Strips
Zucchini strips are the perfect cuts to prepare parmesan zucchini fries and many other mouthwatering dishes. Slicing a zucchini into strips with the help of a Mandoline slicer is rather easy than using any other tool. To create uniform slices all you need to drag the zucchini lengthwise across the blades of your Mandoline slicer. The slices with 1/8"thickness are ideal for your dish that can be produced by a Mandoline slicer. But you should use the hand guard for safety.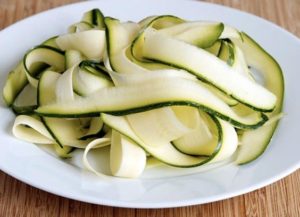 The Different Types of Mandoline
Now you have to get some ideas about different kinds of mandoline slicer that can help you to cut the zucchini as their own techniques to provide you the best slices of your need. Let's go through them.
Adjustable Mandoline
The 'adjustable' term goes with adjustable blades of this mandoline slicer. You can adjust the blades to get the slices of zucchini at your desired thickness. You need different sliced pieces for different food items which can be provided by this model.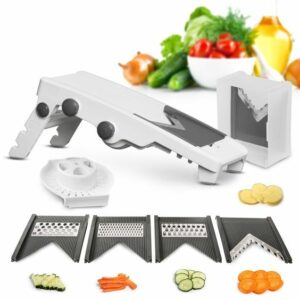 Flat Board Mandoline
The only problem with this model is you cannot adjust the thickness for having only one blade equipped with this device. But when you have to cut the pieces into a uniform thickness then this model comes very handy for you.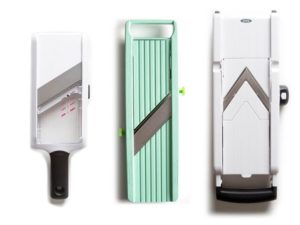 Different Types of Cuts
As I said before, you may have different types of zucchini dishes that need different cuts. A mandoline slicer can give you the different cuts to help you to prepare all those dishes.
Slice
This is by far the most common cut that you need for zucchini. A mandoline can slice the zucchini in different thickness so that you can easily prepare the foods.
Crinkle
A crinkle cut means a V-shaped piece with ridged ups and downs the sides of the zucchini. This is the cut that fits well for preparing zucchini pasta.
Julienne
This is perhaps the most designed cut that you may get from a mandoline slicer. A julienne cut means the strips of zucchini that you can use to make zucchini noodles.
Matchsticks
This cut doesn't go directly with the zucchini, but if you want to make some kind of curry adding zucchini with different veggies then you must think of using this cut.
How to slice zucchini lengthwise with a mandolin
This cut is most often used for grilled zucchini. First trim the ends of the zucchini. if the zucchini is large you may want to cut it have before using the mandoline. Place the zucchini on the mandoline and run it down the blade.
The Safe Use of A Zucchini Mandoline
Though a mandoline slicer is a very useful device for your kitchen, having sharp blades this device often proves very risky for those who are not careful enough while using it.
You have to cut your zucchini in halves for better control
Always set your mandoline on a clean and flat surface so that you'll get better handling of the device and you also need to choose the right blade for your desired cut.
Before start slicing, always attach a finger guard to keep your finger away from the blades.
If you're righty, then hold the device with your left hand so that you can have the full control of your zucchini.
So, finally, I have told all about the zucchini and the mandoline slicer from the best of my knowledge. All I can hope you will get better ideas about the different dishes made of zucchini using a mandoline slicer. I know I'll never be there to taste the treat, but at least I deserve some credit from you, and that'll be enough for me. What do you say?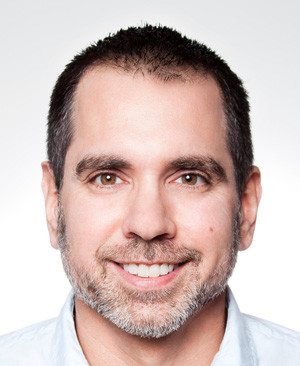 John DiBella is a graduate of The Culinary Institute of America, a cooking enthuthiast and a writer. When he's not writing blogs about home kitchenware, he enjoys hiking, camping, sailing and cooking.