Cooking range or oven is a thing that never remains the same for too long. As the time changes simultaneously this appliance also comes with new and improved idea to make your cooking time a merry time. But with every change of your cooking range or oven, it is obvious that you have to change your cooking appliance to fit with the modified version of the oven.
A wok is one of the most common appliances that can be seen almost in every kitchen. In recent past when you had a gas stove, you used to place the wok on the cooktop for cooking as it sets perfectly on it. But now the electric stove has taken place of the gas stove and you have to remodel your kitchen. Now the question is, can you use the wok on the electric stove? To find out the right answer you need to explore the whole thing. Let's go.
The wok is a kind of frying pan made of different materials like carbon, cast iron, aluminum, and non-stick metal. It is mainly used for different kind of cooking techniques like frying, boiling, steaming, smoking, and many others. Having two types of the handle- loop and stick this pan not only helps you to cook easily but also prevent your hand from burning.
There are two types of wok commonly used everywhere. One of them is round-bottomed wok and the other one is flat-bottomed wok. Both have a different outlook but provides almost equal service except a few issues. Now let's take a close look at both of them and find out the difference between them.
Round-Bottomed Wok
The round-bottomed wok can be great for mixing and also help the heat to reach all parts of the wok. You just need some necessary adjustments to make it better working. It means you need a metal wok ring which makes your round-bottomed wok compatible with electric stove.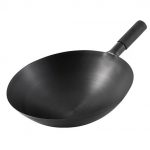 Flat-Bottomed Wok
The flat bottomed wok suits better with the electric stove. Because it gets proper contact with the heat and it stays stable on the surface. And here no wok ring is required to make it stable.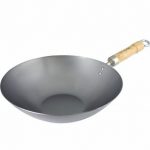 How to Use a Wok On an Electric Stove
Types of Electric Stove
Now it is time to find out how a wok works on an electric stove. You must know that there are two types of electric stoves- one is an electric coil stove and the other is a glass-ceramic stove.
On an Electric Coil Stove
With electric coil stove, you should use a flat-bottomed wok which can be placed right on the top of the heating coils. In this way, the heat can easily spread throughout the bottom of the wok evenly and allow you to cook your food properly. Especially, a carbon-steel made wok does a fine job on this issue. As for the round-bottomed wok, this type of stove is not very much convenient to work on. Because you cannot make it stand on the cooktop steadily there. You always need to hold one of the handles while working.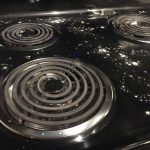 On a Glass-Ceramic Stove
With the glass-ceramic stove, you should use a round-bottomed wok for better service. But before that, you need to place a wok ring on the cooktop and then you can keep the wok on it. This allows the wok to stay stable on the stove. Apart from that, this wok ring always maintains a gap of ½"- 1" between the bottom of the wok and the cooktop to prevent any scratches there. This is the reason for what you cannot use a flat-bottomed wok on a glass-ceramic stove.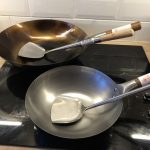 Moreover, the glass-ceramic stove is a better option for a round-bottomed wok for one more reason, as it is made of solid material so that it can handle the extreme temperature changes without breaking. But if you drop any hard object a crack may occur on it. Therefore, you cannot use the carbon-steel wok on this kind of top.
Also Read: Best Bread Slicer for Homemade Bread
Preferred Heat needs for Wok
No matter what type of cooktop you're using but in every case, you need to preheat your wok for at least 10 minutes and then add oil in the wok. Then whirl it to let the oil to make a coat inside the entire wok. When the oil gets hot, only then adds all the food ingredients as per your recipe and stir to fry.
But in the beginning, you need to heat your wok slowly and then gradually increase the temperature to 3000- watt or more. Applying maximum heat at the starting may cause your wok warp. The temperature from 145°F to 300°F is needed to cook a different kind of foods in a wok.
Also Read: Best Waffle Maker with Removable Plates
Seasoning is an essential work that has to be done with your wok if it is brand new. Because to prevent it from rusting the manufacturer user some oil, this should be removed before first time cooking. For this purpose, you have to follow a process.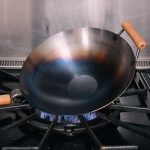 To remove the chemical coating, scrub the wok from inside and outside using a stainless steel scrubber and some liquid soap.
Place the wok on the burning stove and let it dry with high heat.
When the black spots appear at the bottom and then the wok turns to gunmetal grey, it means your wok is heated enough.
Now allow the wok to cool.
Add some over-heated oil into the wok to create a thin non-stick coating.
Now preheat the wok again and add 2 tbsp oil and spread it all around the wok.
Add some chopped ginger and stir fry it for 15-20 minutes. In this way, the metallic smell will be gone and your wok will not rust in the future again.
Remove the mixture from the wok and take out the wok from the stove. Let it cool.
Wash the wok with a sponge and in this way your wok is ready for cooking.
Also Read: Best Personal Blender for Crushing Ice
Pros
Both round-bottomed and flat bottomed wok have their advantages that may suit you as per your choice.
Washing is rather easy, you just need dish soap and fresh water to clean your wok after the cooking session is over.
Cons
Heat with below temperature is the main concern with an electric wok. This under heating makes your dish more boiled than fried.
Most of the electric wok needs 1000-1600 watts to generate the required heat for your cooking. This certainly will pinch your pocket while paying the electric bill.
Also Read: Best Griddle Pan for Pancakes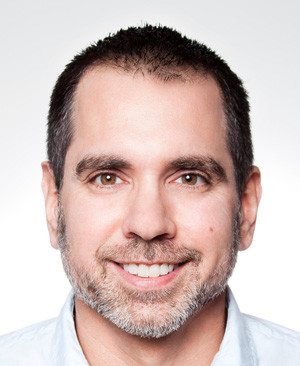 John DiBella is a graduate of The Culinary Institute of America, a cooking enthuthiast and a writer. When he's not writing blogs about home kitchenware, he enjoys hiking, camping, sailing and cooking.